BENEFITS OF USING CSS
CSS understands that you have many choices when it comes to deciding upon your temporary staffing firm. We specialize in getting temporary staff on your site as soon as possible. We ensure the right contractor is on your site by our unique multi-layered qualification techniques as well as behavioral interviewing. Get the right person on your site, the first time, with CSS Staffing!
Experienced Recruiters: We conduct our candidate searches with experienced and knowledgeable researchers and recruiters who each have a strong background working on Internet research, our large in-house database as well as personal long term referral networks that each maintain. Job searches are vigorously conducted by our staff, getting temporary staff working at your location as quickly as possible.
Recruiters are not Salespeople: Our Recruiters can spend 100% of their time recruiting temporary employees. CSS recruiters do not sell or manage client accounts like they do at other firms. This means they have more time to find temporary employees.
Personal Attention to Clients: We are a small firm. We provide the personal attention to your job orders that other larger providers likely would not be bothered with. Each job order and company, no matter the size, receives the same customer service, fast and focused attention.
Simplified Agreement Forms: CSS have simple, no hassle agreements to sign with employers. We can usually get employer agreements out the same day as clients want to get started working with us. Many other firms simply cannot move that quickly. We are a nimble, customer-centered firm. Whatever the client needs, we will provide, keeping in constant touch in the process. Our email and social media are constantly monitored, so we can always be contacted right away with any concerns or needs of our clients.
Electronic bills and payments: CSS works electronically and without paper for most of our clients. We typically pay our temporary employees via direct deposit and bill clients electronically.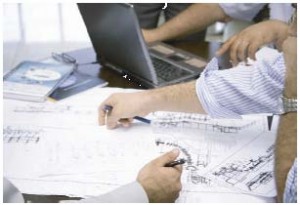 Technology: CSS uses a web-based ATS/CRM system to manage and track all candidate and client activity. Managing the knowledge of sales and recruiting teams is critical to ensuring the highest degree of productivity in our front office to make placements and manage client needs. CSS Staffing can measure performance with summarized data or drill down into further detail by department, user type, and even to the individual user for each recruiter, sales person, or job owner. Management can create reports for virtually every aspect of the business which allows us to identify trends. The technology also provides greater quality control and satisfaction for both the customer and the candidate.
DOD Security Clearance: CSS maintains and has the capability of placing positions with such candidate requirements, as well as the ability to process clearances for contractors.
Social Media/Text: CSS recruits and keeps our temporary employees updated via Facebook and Twitter. We also text many temporary employees and contractors to keep in touch. CSS is a forward-thinking and modern recruitment firm. We utilize the most up to date techniques to locate and keep up with our temporary staff.
Customized Services: CSS Staffing can provides many additional services. Most of these are worked out with the client to develop the best and most cost effective options to provide staffing or staffing related services. CSS has created customized solutions with client that have become off the shelf solutions such as remote I9 verification, recruitment process outsourcing and our YOU HIRE Program.
CSS CLIENT SERVICES
Contract and Temp-to-Perm Placement
CSS Staffing specializes in quality and cost-effective contract placement of on-site personnel to the Federal Government, Government subcontractors and small to medium sized commercial customers, since 1994. CSS employs contract or temporary staff for periods from one month to over 5 years, depending upon client need. CSS is also able to fill needs on a temporary-to-permanent basis. Hiring people after a trial period is a great method of ensuring each person brought on board is the best and most productive hire possible. CSS can relieve a client of the burden of liability from this process by assuming the risk of lawsuit and unemployment and benefit costs through hiring personnel as temporary employees first. This usually costs the same or less than the cost a company incurs by hiring directly. CSS efficiency is such that we are typically capable of completing the full process of hiring—from requisition to placement—within 7-10 business days.

Permanent Placement
CSS' experienced recruiters can find top quality people quickly by searching our comprehensive internal databases and numerous other sources and advertising outlets. Often, multiple recruiters will work in tandem to fulfill client needs.

Payroll services
CSS offers this service for companies that wish to outsource the hiring process for candidates that they have found or identified internally, and would like to bring on as a contractor and not as a direct employee. This method of staffing often provides cost savings and the flexibility of a customizable workforce. Many times these contractors are referrals from other employees or previously retired workers who bring unique capabilities to the company.
Other Services
CSS has processes in place for associated services that go along with recruiting:
*YOU HIRE services.
*Off-site Recruitment Process Outsourcing,
*Remote I9 Verification and On-boarding
YOU HIRE FOR $3.50/HOUR
CSS Staffing has a unique and revolutionary program called YOU HIRE. A new way to recruit for internal employees for $3.50 per hour!
Features of the YOU HIRE Service:

1. We find the workers & You Hire them with no perm fee. Workers go on your payroll, under your control and benefits. You will enjoy complete control of hiring and embedding them into your culture; they are your hires and go through your normal hiring process.
2. Hire employees at lower hourly rates. Through experience and a large applicant pool and candidate researching, we typically can find candidates at a lower annual salary or hourly rate than client firms. In some cases, clients may find that paying the employee combined with our commission is the same or less than what was expected to pay the employee alone.
3. How do we get paid? We get paid a low commission rate on each hour a contractor works for you. This way you are only paying for what you actually receive.
4. Fast Hiring. We can be given a job order as to what you are looking for and we can have people starting within a day or in some cases, even the same day.
5. Additional Services. If your firm needs CSS to provide additional services such as conduct background checking, drug testing or other pre-employment screening for you, we can certainly provide that service in addition, as we are a full service staffing firm.
6. Experience. CSS has been providing staffing services since 1994 and is well established providing services to companies like yours.
How does the plan work?
Under the YOU HIRE plan, We will do all the research to find applicants, receiving resumes, recruiting, qualification, setting up interviews and if liked, we can conduct your on boarding process, including drug testing/background checking, or you can do your own in house. We can also perform any pre-interview questions you would like us to ask, provide information on benefit, etc. We can be as involved or as little involved in the process as you like.
Once hired, client would email a copy of employee time sheets showing hours worked weekly and CSS would invoice client $3.50 per hour as a commission for a total of 4 months (when 700 hours is reached). Once the 700 hours is reached, the client is no longer responsible for commission. If time sheets are not sent in, or are not timely, CSS will assume each employee is working 40 hours per week and will invoice as such until the 700 hours is reached. Drug testing and background checking can be conducted at a cost of $35 each.
Invoices are due Net-10 days after receipt. CSS has an electronic payment system so that clients remit payment online.